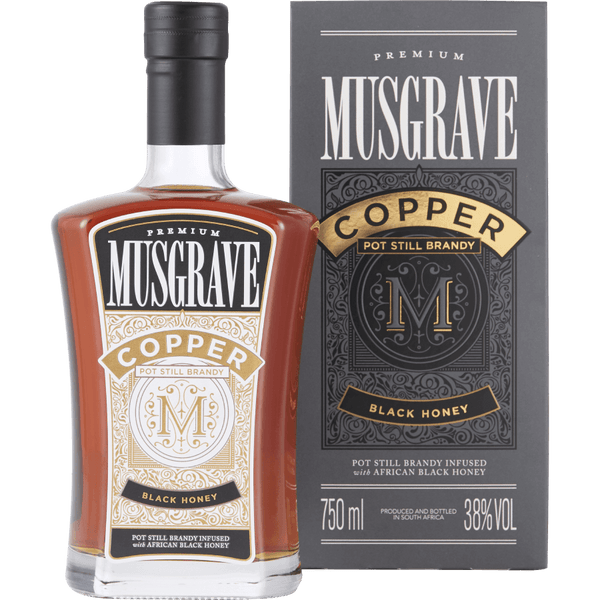 Musgrave Copper Black Honey
Musgrave Copper Black Honey
Musgrave Copper Black Honey is a potstill brandy infused with a dark and rich winter honey found in the forests of Zambia. It is deep caramel in colour and exhibits a complex profile. The honey gives the brandy a deep and luxurious flavour with a hint of sweetness. 
Pour a luxurious double shot over ice, top with ginger ale and garnish with a wedge of lime to allow the honey flavours to sing. Heighten the experience by adding a shot of Pale Dry Sherry allowing the almond notes to complement the ginger and honey tones. 


Swigs
Musgrave Swigs are our small 200ml bottles. Perfect for a picnic, braai or day out, they are also the perfect bottle service for a couple or 2 friends.
Mini Box
Each 50ml Mini is the equivalent of a double shot. Minis are available in a box of 12 offering great versatility. Ideal for traveling, gifts, minibars and weddings.
Musgrave Spirits Mini Bar
One of each of our four 50ml spirits packaged in a handy gift box. 
Copper Black Honey & Truth Coffee Set (12 Double Shots)
Truth Coffee is South Africa's award winning coffee producer. Black Honey is their latest blend which is juicy, fruity and deliciously, yet subtly sweet with a mellow acidity.
Now add a double shot of Musgrave Copper Black Honey and top with frothed milk in an elegant wine glass to create a modern take on an Irish coffee. They call it Irish, we call it African.